STATEN ISLAND, N.Y.  — The Staten Island Chamber of Commerce is participating with a nationwide program to promote locally owned businesses across the borough.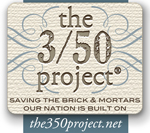 The 3/50 Project is a grassroots campaign that has spread across the nation to support and save local businesses. 
The concept behind the program is for consumers to pick three independently owned Island businesses and spend a monthly total of $50 between these establishments.   
The Staten Island Chamber is working with The 3/50 Project to bring this campaign to Staten Island. 
The 3/50 Project was founded by Cinda Baxter , a resident of  Minneapolis, Minn., where the Project began.
Learn more about the Island project at NY1 and visit the350project.net for additional information about The 3/50 Project.
Tools available for participating business owners to promote their participation in the program include: Flyers, Countertop signage, window clings, and more.
For information on how your business can be included in the Island initiative, call the Chamber at 718-727-1900.
Media Inquiries:
Barton Horowitz
Relevant Public Relations, LLC
Headquarters: 718‑682‑1509
Mobile: 917‑715‑8761
Email: Bhorowitz@RelevantPR.com