On Wednesday, Oct. 24, bring in this flyer or SHOW IT ON YOUR PHONE before paying, and Blaze Pizza will donate 30% of proceeds from your meal back to the Kids Against Cancer Pediatric Oncology Center at Staten Island University Hospital Northwell Health: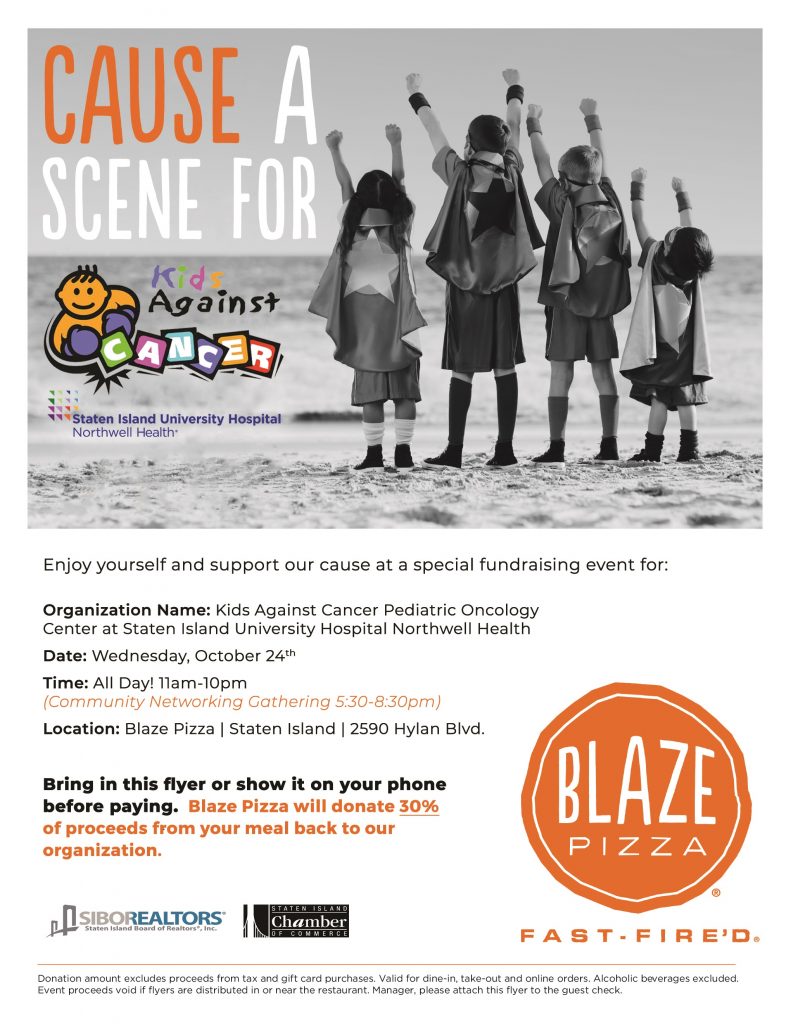 Fundraiser, 11 a.m.-10 p.m., will feature a community-networking 'event within an event'  beginning 5:30 p.m. with a patriotic song performed by Al Lambert
STATEN ISLAND, N.Y. ( May 5, 2018) –  The Kids Against Cancer Pediatric Oncology Center at Staten Island University Hospital Northwell Health is the inspiration behind a daylong fundraiser to be held at Blaze Pizza, New Dorp, Wednesday, Oct. 24.
The Island restaurant has partnered with the Young Professionals Network (YPN) of the Staten Island Board of Realtors® (SIBOR) and the Staten Island Chamber of Commerce on behalf of the hospital, whose children's oncology center offers a broad spectrum of on-campus cancer services provided by board-certified specialists.
"It's always inspiring to see how quickly Staten Islanders step forward to help others," said Sandy Krueger, CEO of SIBOR. "I'm thankful for our Realtors and the Chamber for their commitment to our community, as well as joining forces with Blaze Pizza in their combined mission of making this fundraiser a reality."
YOU'LL NEED A FLYER
To participate in the fund-raising drive, all you need to do is present a special flyer – printed out or on your cell phone – when you order your food. After the event, Blaze Pizza will mail the hospital a check for 30 percent of net sales that the event brings in (excluding alcohol sales). The flyer is available online at: www.BlazeAgainstCancer.com.
TWO EVENTS IN ONE
The fundraiser will take place 11 a.m. to 10 p.m., with a special community-networking "event within an event" 5:30 to 8:30 p.m., which will kick off with a patriotic song performed by entertainer Al Lambert.
The three-hour networking feature will provide visitors with an opportunity to mingle with friends, the fundraiser's co-sponsoring organizations and members of the business community.
"We are delighted to have the opportunity to support such a worthy cause, and embrace the privilege of hosting the fundraiser in our restaurant," said Lawrence Lessing, a co-owner and operator of Blaze Pizza on Staten Island.
In addition to raising money for the Pediatric Oncology Center through dining, contributions are welcome, said Realtor Richard Dun, YPN chairman-elect and chair of the fundraising event.
"Staten Island is compassionate, and as word of the fundraiser spreads, we anticipate additional support from Island residents, Realtors and affiliates, and other members of our business community," Dun said.
The Kids Against Cancer Pediatric Oncology Center at Staten Island University Hospital Northwell Health is an invaluable Staten Island asset, added Linda Baran, president and CEO of the Staten Island Chamber of Commerce.
"When you come to the fundraiser, bring along your appetite, as well as your appreciation of networking and helping others, and help spread the word through your social media and email contacts," Ms. Baran said. "Also, don't forget your flyer."
The positive impact of the multi-group fundraising initiative has been recognized by SIUH.
"We are continuing the evolution of our cancer program at Staten Island University Hospital by integrating our services into a brand new Comprehensive Cancer Center. Blaze Pizza, the Young Professionals Network of the Staten Island Board of Realtors and the Staten Island Chamber of Commerce saw the need for constructing a new state-of-the-art center here on Staten Island, and we are immensely grateful for their generosity. With their help, we'll be able to treat twice as many patients without being hospitalized," said Brahim Ardolic,, MD, executive director of SIUH.
About Blaze Pizza
Blaze Pizza is a modern day "pizza joint," serving up artisanal pizzas that are both fast and affordable. With fans lining up each day for their custom-built pizzas, freshly made salads, blood orange lemonade and s'more pies, the innovative fast-casual concept has quickly become one of the hottest restaurant chains in the country.
Blaze Pizza in New Dorp, Staten Island, and all Blaze Pizza restaurants, feature an interactive open-kitchen format that allows guests to customize one of the menu's signature pizzas or create their own, choosing from a wide selection of fresh, "clean" ingredients – all for about $8.
The generously sized personal pizzas are then sent to a blazing hot open-flame oven – the centerpiece of the restaurant – where dedicated pizzasmiths ensure the thin-crust pies are fast-fire'd and ready to eat in just 180 seconds.
The restaurants make fresh dough from scratch using a proprietary recipe developed by Executive Chef Bradford Kent (the "Pizza Whisperer"), which requires a 24-hour fermentation period to produce his signature light-as-air crisp crust.
For pizza fans with specific dietary needs, Blaze Pizza offers gluten-free dough and vegan cheese.
The first Blaze Pizza® restaurant opened on Aug. 6, 2012, in Irvine, Calif., and quickly gained attention for its chef-driven recipes, thoughtful interior design, and a service culture that celebrates individuality. Recently named '#1 Brand of the Year' in the 2017 Fast Casual Top 100, the fast-growing chain currently operates 245 restaurants in 35 states and Canada, including the major metropolitan areas of Los Angeles, New York, Chicago, San Francisco, Dallas, Las Vegas, Boston, and Toronto. Founded by Elise and Rick Wetzel (co-founder of Wetzel's Pretzels), the concept is backed by private equity firm Brentwood Associates and founding investors that include LeBron James, Maria Shriver, movie producer John Davis and Boston Red Sox co-owner Tom Werner. For more information, visit www.blazepizza.com or www.facebook.com/blazepizza or click here to view a company video.
About the Staten Island Board of REALTORS® (SIBOR)
Established in 1915, the Staten Island Board of REALTORS® (SIBOR) is the largest professional and trade association in Staten Island, N.Y.
SIBOR exists to enhance the ability and opportunity of its members to conduct their business successfully and ethically, and promote the preservation of the public's right to own, transfer and use real property.
Comprised of more than 2,000 members, SIBOR serves real estate agents, brokers and affiliated professionals throughout the borough and surrounding areas.
SIBOR is the provider of the Staten Island Multiple Listing Service Inc. (SIMLS), which works as a clearinghouse through which more than 250 local real estate firms exchange information on properties they have listed for sale. Together, its members participate in over 5,000 real estate transactions every year.
All SIBOR Realtors belong to the New York State Association of REALTORS® (NYSAR) and the National Association of REALTORS® (NAR).
SIBOR may be reached at 718-928-3220 and viewed online at SIBORREALTORS.com. SIBOR may also be visited on Facebook at "Staten Island Board of Realtors" and on Twitter via @SIBOR.
About the Staten Island Chamber of Commerce
The Staten Island Chamber of Commerce was established in 1895 by a small group of Staten Island merchants and professionals "to promote the general business interests of Staten Island." Since then, it has grown into the largest business organization on Staten Island representing nearly 700 separate businesses and 20,000 employees. Every major industry sector is represented in the Chamber's membership, with businesses ranging in size from "mom and pop" stores to large public corporations.
###
Media Contact: Barton Horowitz
Relevant Public Relations, LLC
Headquarters: 718‑682‑1509
Mobile: 917‑715‑8761
Email: BHorowitz@RelevantPR.com